An Artful Residence to Inspire You in South of Fifth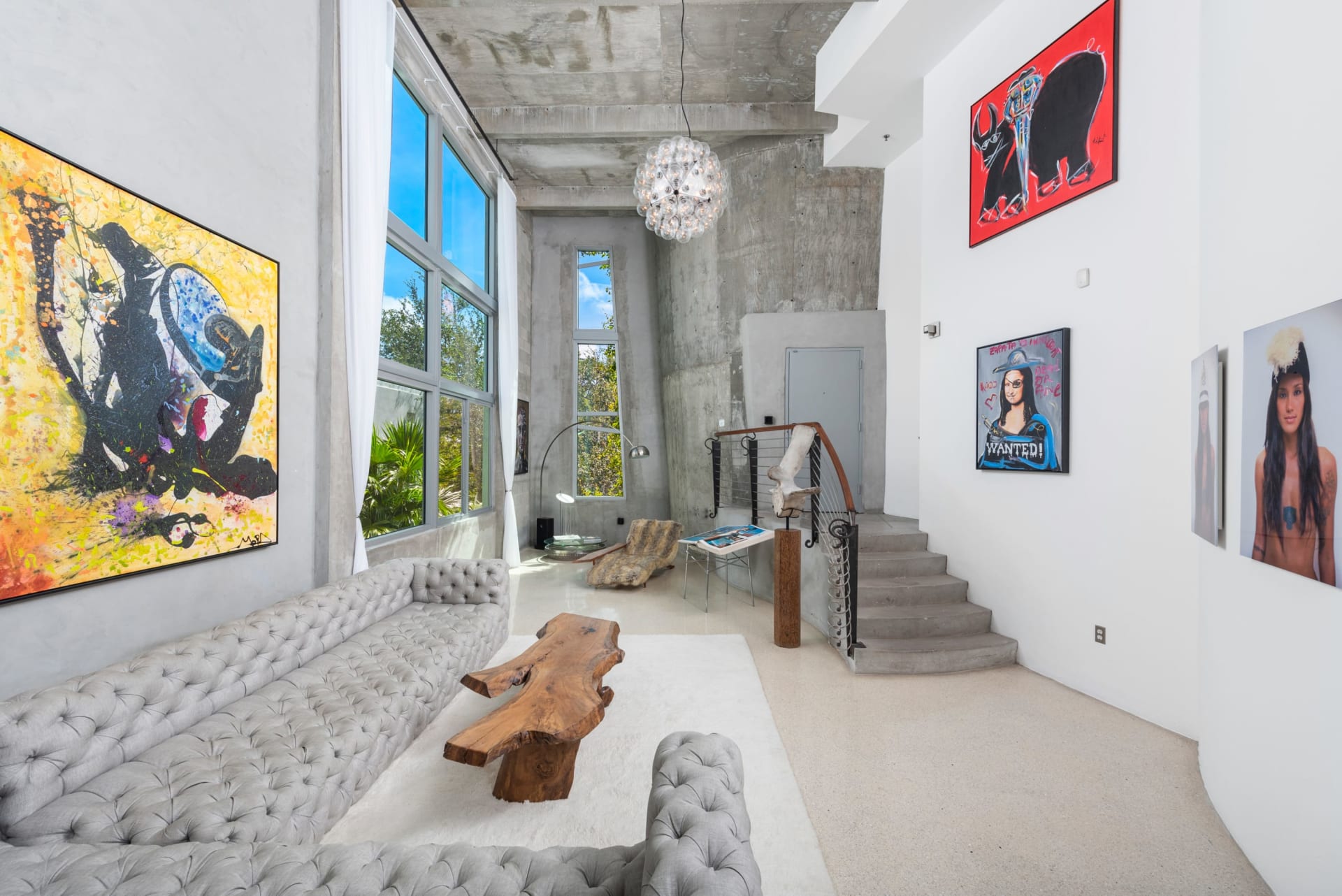 Many of us find inspiration as we go about our daily lives, but not too many of us are lucky enough to live in a home that inspires creativity, profound thought, and beauty itself. Though inspiration can be allusive at times, it helps to surround ourselves with art and objects that mean a great deal to us, and drive us to put forth the best versions of ourselves as possible.
One of my exclusive listings not only incorporates art and sculptures in a unique and beautiful way, but the interior and exterior architecture itself frames the pieces deliberately, and thoughtfully. This residence is truly one-of-a-kind, and inspiration can be felt throughout every corner. The two stories in this loft-like penthouse are filled with artwork, yet the home never feels crowded or overdone.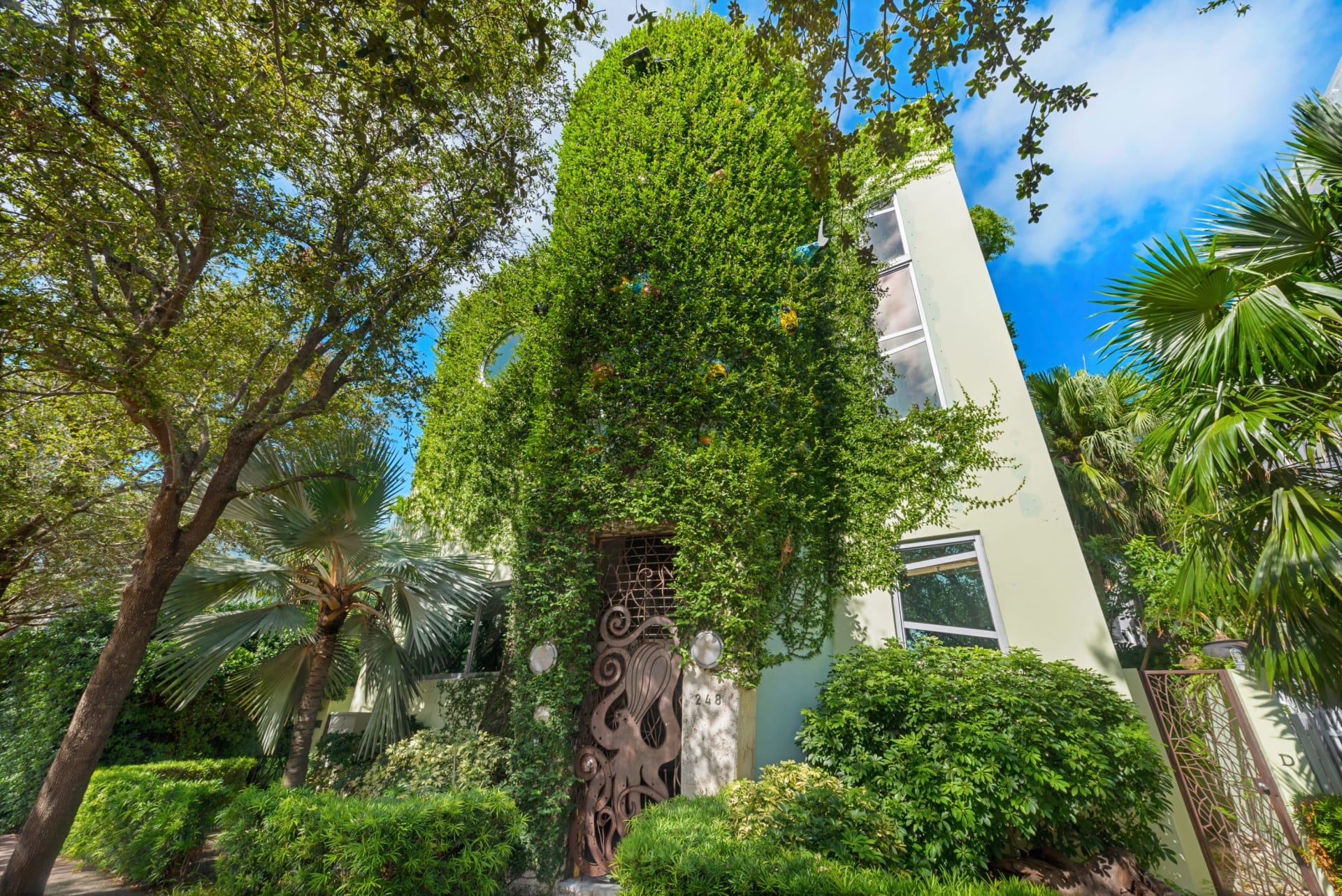 Walking along Washington Ave in the South of Fifth neighborhood towards this residence is relaxing and refreshing, and one can easily enjoy the shade provided by a lush canopy of aged oak trees. As you enter the home, you're greeted by a doorway featuring a hand-crafted bronze octopus that hints at the whimsy awaiting you inside. Throughout the 3,130 square foot penthouse, different artwork that speaks to each individual immediately draws the eye.
This space is done in the industrial loft style with exposed concrete walls and ceilings in some places throughout. The architect chose this style so as to allow the artwork inside to speak for itself. There are also 20-foot high ceilings, allowing for more voluminous sculpture pieces.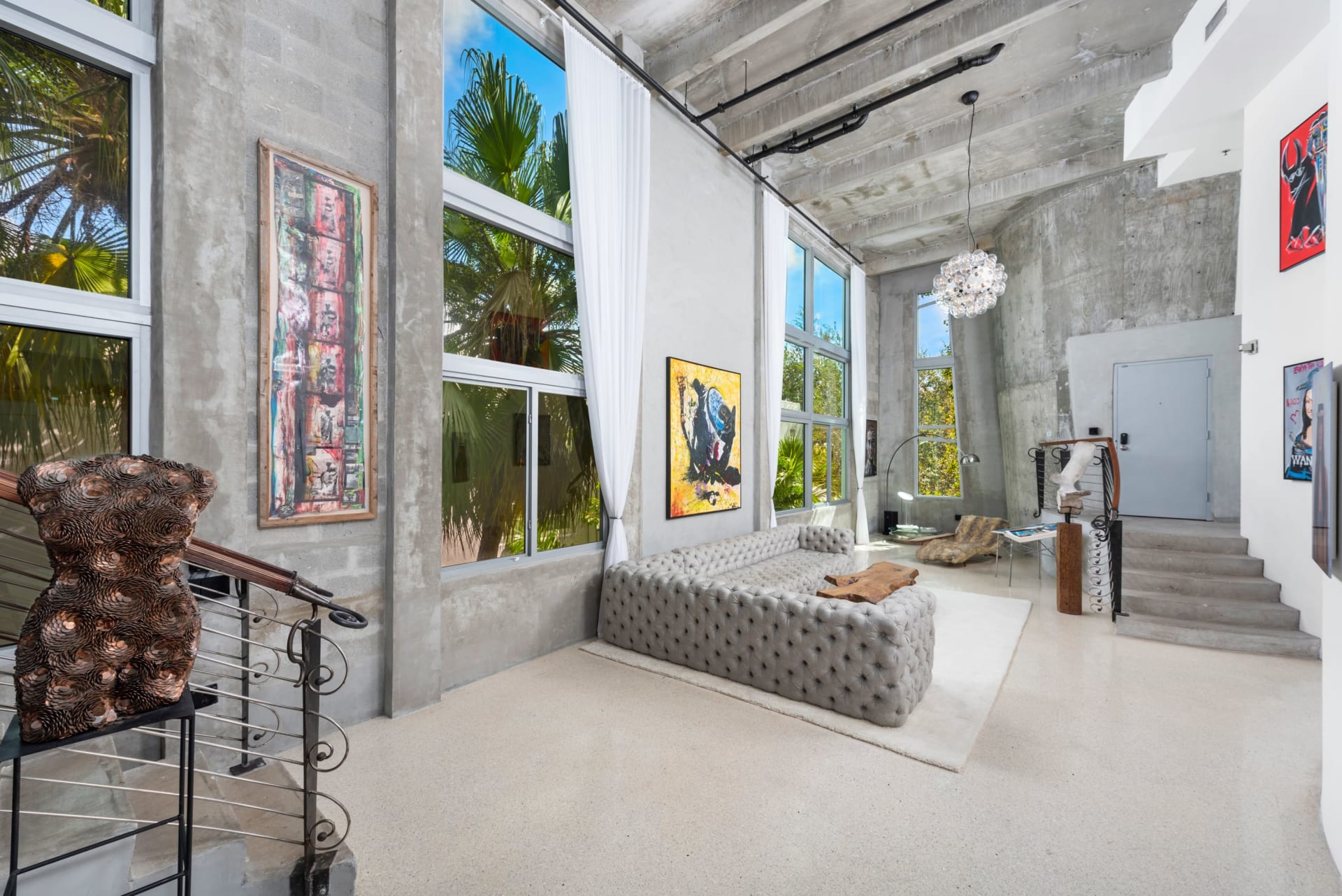 The living room could feel quite large when empty, but with the pieces currently in the space, it feels homey and comforting. There is a bounty of natural light provided by copious uniquely shaped windows that seem to be carved directly from the concrete.
Moving into the kitchen, you'll find an open floorplan that allows for seamless entertaining with an adjoining 8-person dining table. The plush velvet chairs add a pop of color to the space, and is one of the rare instances throughout the residence where the furniture draws the eye, rather than allowing the artwork on the walls to speak for itself. The custom kitchen includes designer cabinetry, a Wolf gas stove range, double ovens as well as a polished concrete countertop.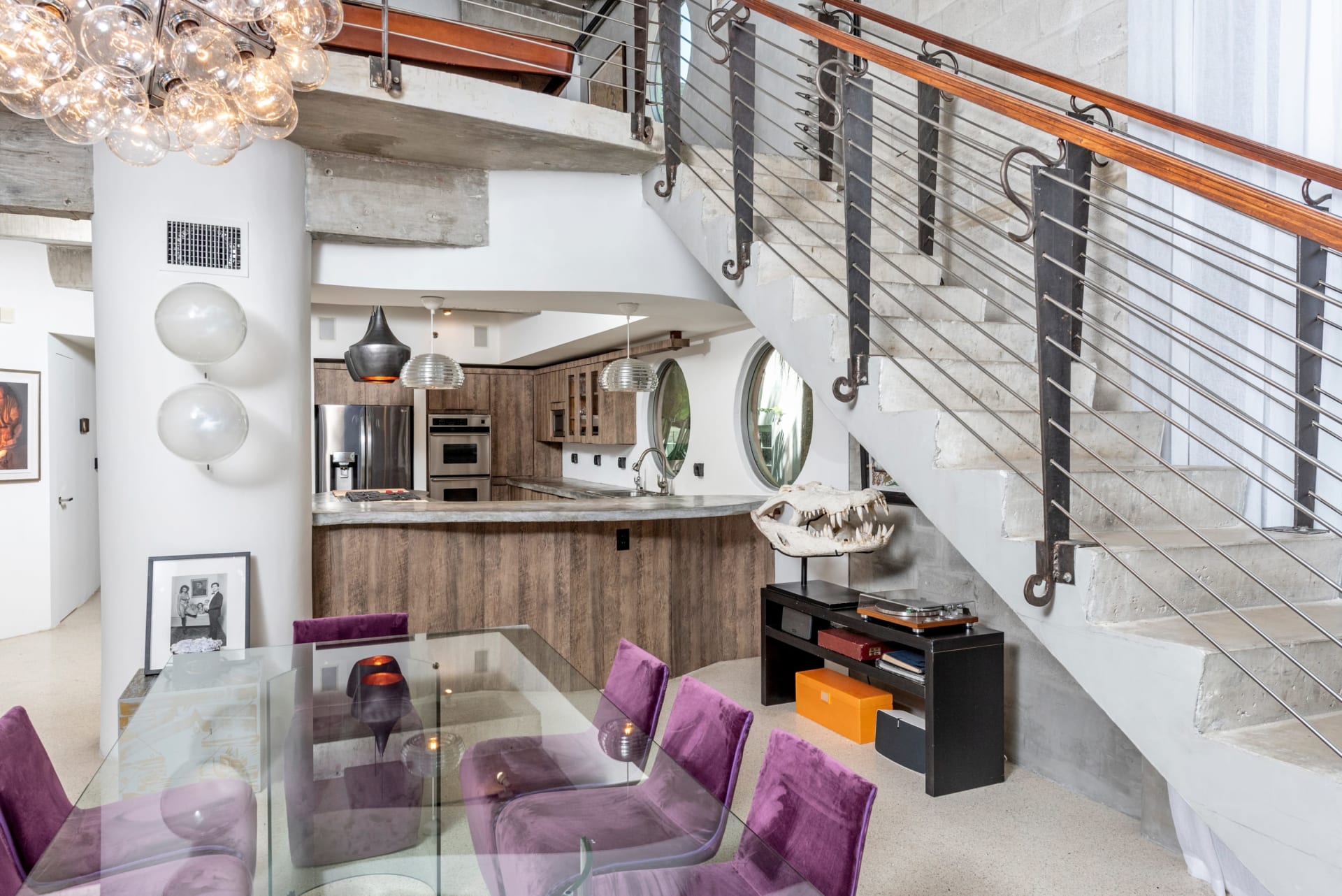 As you walk upstairs to the second level, you're greeted by a loft with a lounge area prior to entering the Master Suite. This suite has been furnished with pieces and artwork that lend it a slightly romantic, ethereal quality. Between concrete ceiling beams, velvet drapes, and bathrooms walls covered with intricate titles, there is enough texture here to capture one's full imagination. In addition to the walk-in closet, the master bathroom has been beautifully renovated and now includes a porcelain pedestal tub, a steam shower and Restoration Hardware fixtures.
The penthouse allows access to a semi-private rooftop terrace, which is shared with only one neighbor. For all of your entertaining needs, it boasts an outdoor kitchen with a gas BBQ grill, an open fire pit with a lounge, open dining area, and surround sound system. To ensure that every outdoor entertainment desire is met, the rooftop also features a Jacuzzi and an outdoor shower. All of these features are set amongst breathtaking tropical landscaping, including herb gardens, and jasmine trees that were curated to give a relaxing atmosphere for all who spend time there.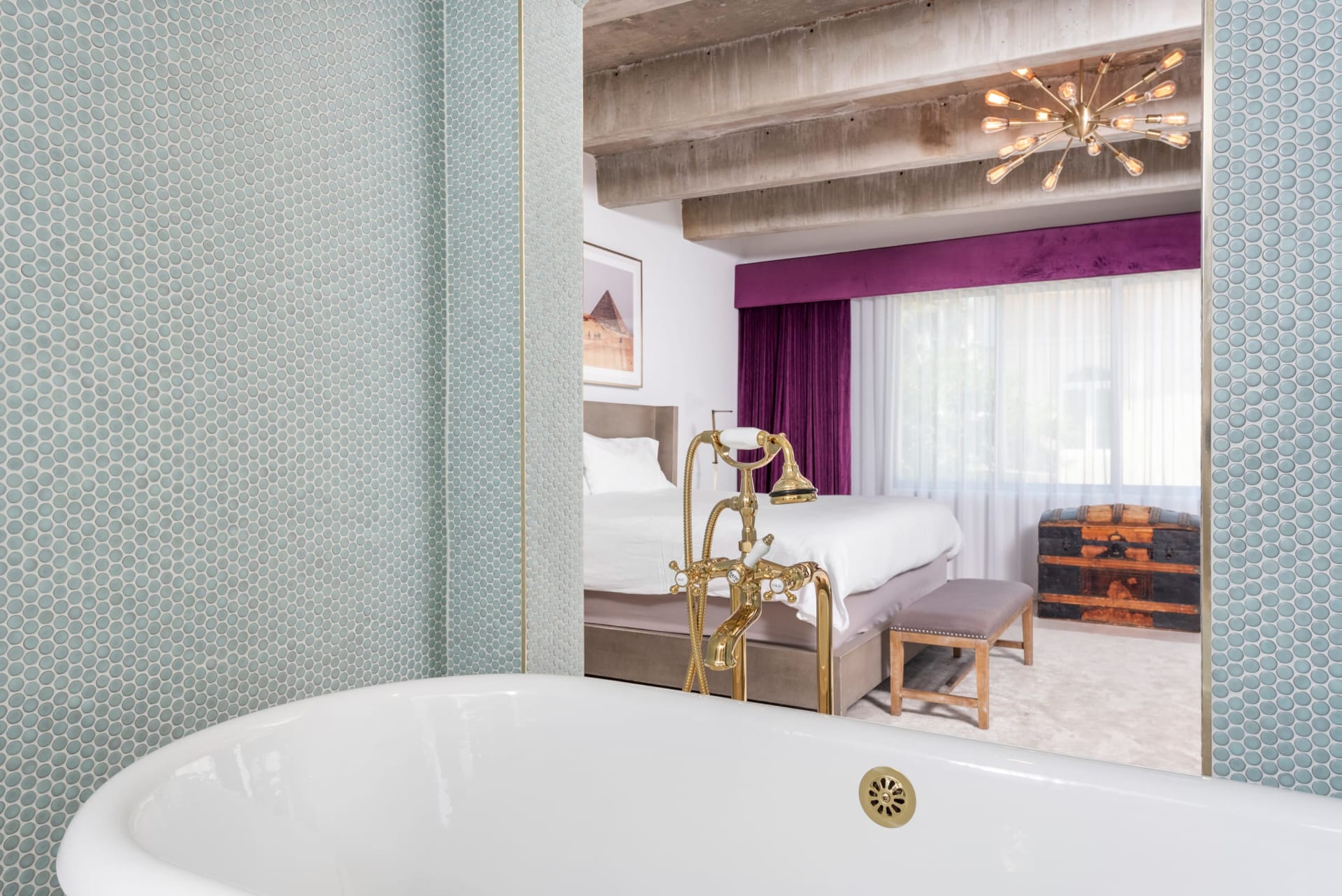 As mesmerizing as all of these details and features within the home may be, the exterior of the building is just as captivating. When I arrived in Miami Beach in 1998, I was always so curious about this particular building. As those who have driven or walked by 248 Washington know, the exterior is adorned with dozens of larger-than-life fish sculptures. And just as the home inside is a welcoming and inspiring place for you to live, I've always found it ironic and reassuring that these sculptures have become just as welcoming a home for local birds to build their nests.
I hope you've enjoyed learning about this home as much as I. To take in the whole experience, you really have to see it in person for yourself. Give me a call and I'd be happy to set up a private showing.