Historical Facts About South Beach

Real estate developments often reflect the rich history associated with their locations, and like many developments throughout the United States, the Miami real estate market uses the area's history as a strong selling point.

The history of South Beach and its adjacent neighbor to the north, Miami Beach, is centered on land development, recreational attractions, and aesthetic charm. Miami real estate development flourished early under John S. Collins, Carl G. Fisher, and John and James Lummus, and their vision helped shape what many people think about when they hear South Beach. An area's history can make a massive difference for people interested in buying a new home or making a real estate investment.

If you're considering purchasing a Miami beach house or other Miami real estate, here are a few exciting details about the development of South Beach.
South Beach was initially intended to farm coconuts

South Beach wasn't much of anything before the nightclubs, restaurants, and hotels began popping up. In 1870, after sailing up the Florida coast from Key West, Henry Lum and his son Charles purchased 165 acres hoping to farm coconuts in the area. Charles built the first Miami beach house there in 1886, a two-story structure where the Tides Hotel now stands. Dense mangroves made farming almost impossible, and the mosquitos they attracted drove most of the workers away.


Agriculture in the area proved to be arduous and unrewarding. By 1894, Henry and Charles decided to leave South Beach after they could not profit from their coconut venture. A wealthy investor from New Jersey, John Stiles Collins, accepted control of the land and began planting avocados, bananas, and other crops before realizing the potential for developing the area for other purposes.
Early Miami real estate development centered on single-family residences
Early on, Miami Beach was a day-trip destination by ferry from the City of Miami across Biscayne Bay. Understanding the area's potential, Collins and the Lummus Brothers, two Miami businessmen, envisioned a city of single-family Miami beach houses on the oceanfront. To accomplish his vision, Collins dredged a canal through Miami Beach and, in 1912, began building a wooden bridge that connected Miami Beach to mainland Florida.
The project was costly, and Collins
ran out of money before completion
. With help from Carl G. Fisher, an entrepreneur from Indianapolis, the Collins Bridge was completed in July 1913. After its completion, Collins, Fisher, and the Lummus Brothers realized a different vision for the peninsula and started promoting Miami Beach as a resort-style destination.
Miami Beach contains natural and manufactured land
Today, Miami Beach is located on natural and man-made barrier islands originally formed to attract wealthy vacationers from the north. Carl G. Fisher is primarily responsible for the transformation of South Beach, hoping to establish the area as a thriving city separate and independent from Miami. Early on, his efforts and money went into
dredging Biscayne Bay
, a water section between Miami Beach and the City of Miami. Although the sand isn't technically "artificial," it doesn't naturally occur on South Beach—or almost any beach in Southeastern Florida, for that matter. Like many other beaches in the United States, Miami Beach's shoreline is periodically restored by pumping in sand from the nearby seafloor.
The Roaring Twenties brought a boom and a bust

In the 1920s, Florida experienced one of the largest economic booms in American history as hundreds of thousands of Americans began pouring into the Sunshine State. After its incorporation as a city in 1917, Miami Beach began to experience enormous growth as many wealthy industrialists from the Northeast and Midwest retreated during the winters to the peninsula, which would become an island in 1925. Miami real estate values skyrocketed to never-before-seen levels, and luxury developments began popping up seemingly overnight to accommodate those looking for a winter vacation or even a winter Miami beach house.

On September 19, 1926, a hurricane struck Miami Beach, and the devastation it caused led to an end to Florida's land boom. Hotels and casinos were severely damaged, telephone and electrical services were wiped out, and nearly 400 people were killed in the Miami area. In addition to losses associated with the hurricane, the Great Depression added insult to injury by forcing some remaining homeowners to abandon their homes and developments.
Miami Beach is known for its Art Deco architecture
People looking to purchase a Miami beach house or invest in the Miami real estate market are often fascinated by the area's architecture. In the early 1930s, South Beach experienced an
architectural resurgence
after the 1926 Miami hurricane damaged many hotels, homes, and other buildings on the beach. Most of the structures built on Miami Beach during the 1930s marked a transition from the area's Mediterranean-eclectic style to a form of Art Deco known as Streamline Moderne, a less decorative reflection of the Great Depression. Listed on the National Register of Historic Places, the Art Deco Historic District has the nation's largest concentration of Art Deco architecture and features over 800 historic buildings.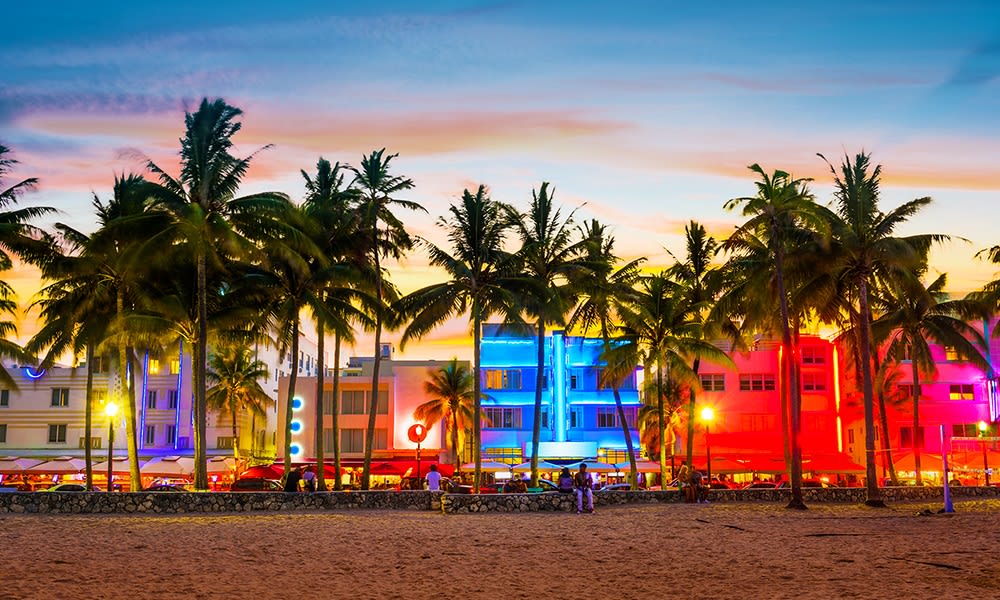 South Beach is one of the most prosperous areas in Miami Beach
Beginning in the 1980s, a flood of professionals in the fashion industry, and interestingly, the television show
Miami Vice's
popularity brought about a new wave of investors looking to find their place in the Miami real estate market. South Beach remains a top destination for tourists, beachgoers, and shoppers, and the area continues to attract millionaires, celebrities, and other high-profile stars. Homebuyers are equally as interested, and the neighborhood has seen some of the most substantial growth in home prices over the past year.
Now is a great time to consider an investment in Miami real estate. If you're ready to learn more about real estate developments in South Beach or are interested in a Miami beach house, reach out to
trusted agent Jeff Miller
when you're ready to start the buying process.