6 Things to Know About Star Island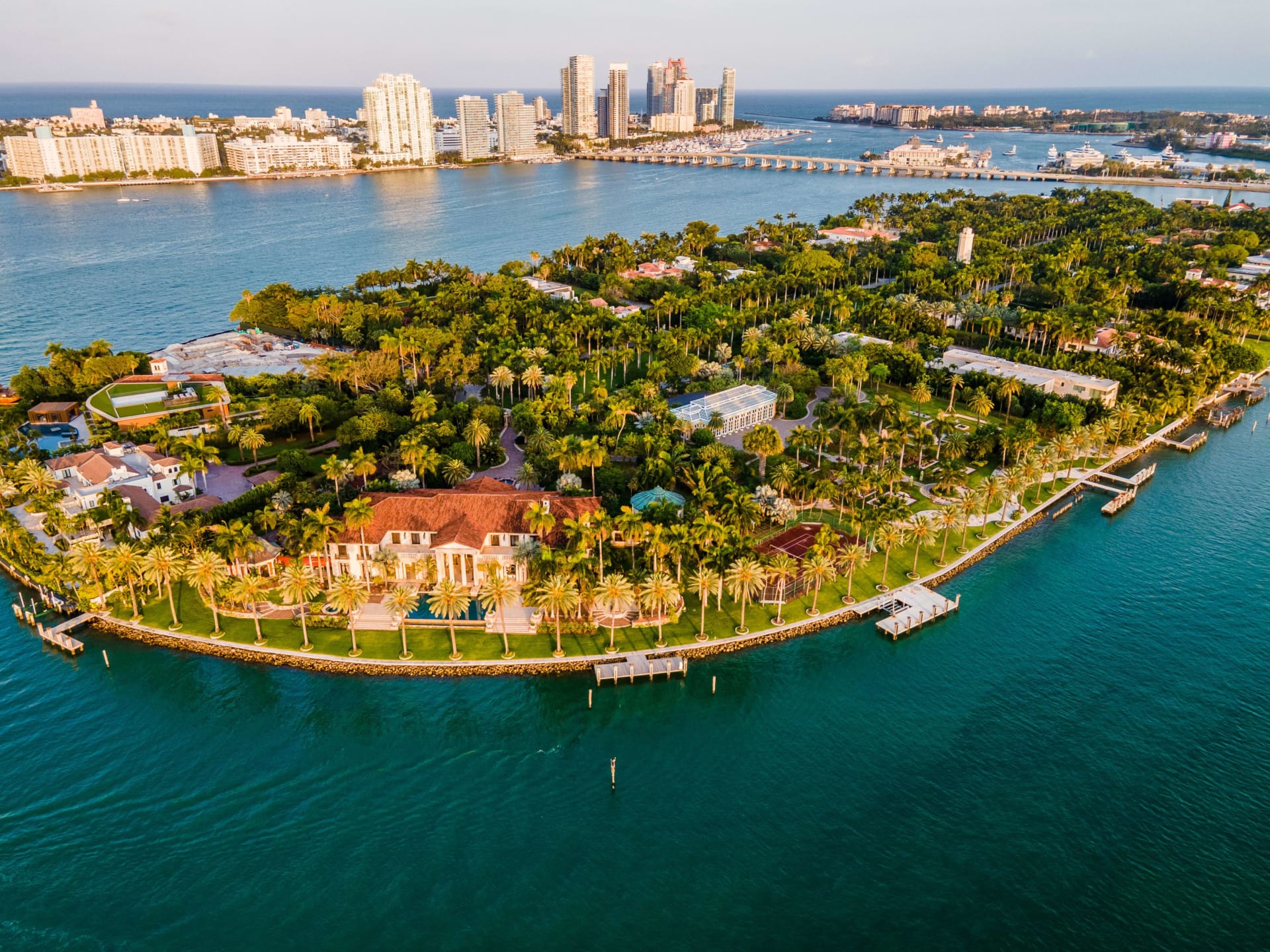 A mere 55 acres of land make up Star Island, a man-made enclave that sits in Biscayne Bay between mainland Miami and Miami Beach. With a single-road entrance monitored by a 24-hour guarded gatehouse, the island is popular for providing its glamorous residents with a tranquil haven away from the hustle and bustle of Miami Beach.
Ever since it was created, Star Island has been known by locals as a place where Hollywood and New York Starlets buy second and third (or fourth!) homes when they want to escape to Miami. Star Island luxury homes have been the current and former residences of celebrities, business titans, and other well-heeled moguls. Let's take a closer look at the history behind Star Island and how it is today.
Star Island's Connection to Miami Beach
The only way by car to reach Star Island and the incredible properties within it is via the MacArthur Causeway; Star Island's entrance is the final turn before you reach Miami Beach. Prior to the construction of the Causeway, which connects Miami Beach to the mainland, the original connector was the Collins Bridge, a 2.5-mile wooden bridge built in 1913. Star Island was constructed after the development of Miami Beach, which began to gain popularity as a potential tourist resort area after the railway was introduced to Miami-Dade County in 1895.
Of course, if you are lucky enough to have a boat or yacht at your disposal, you can visit your own or a friend's Star Island home from all angles of the island.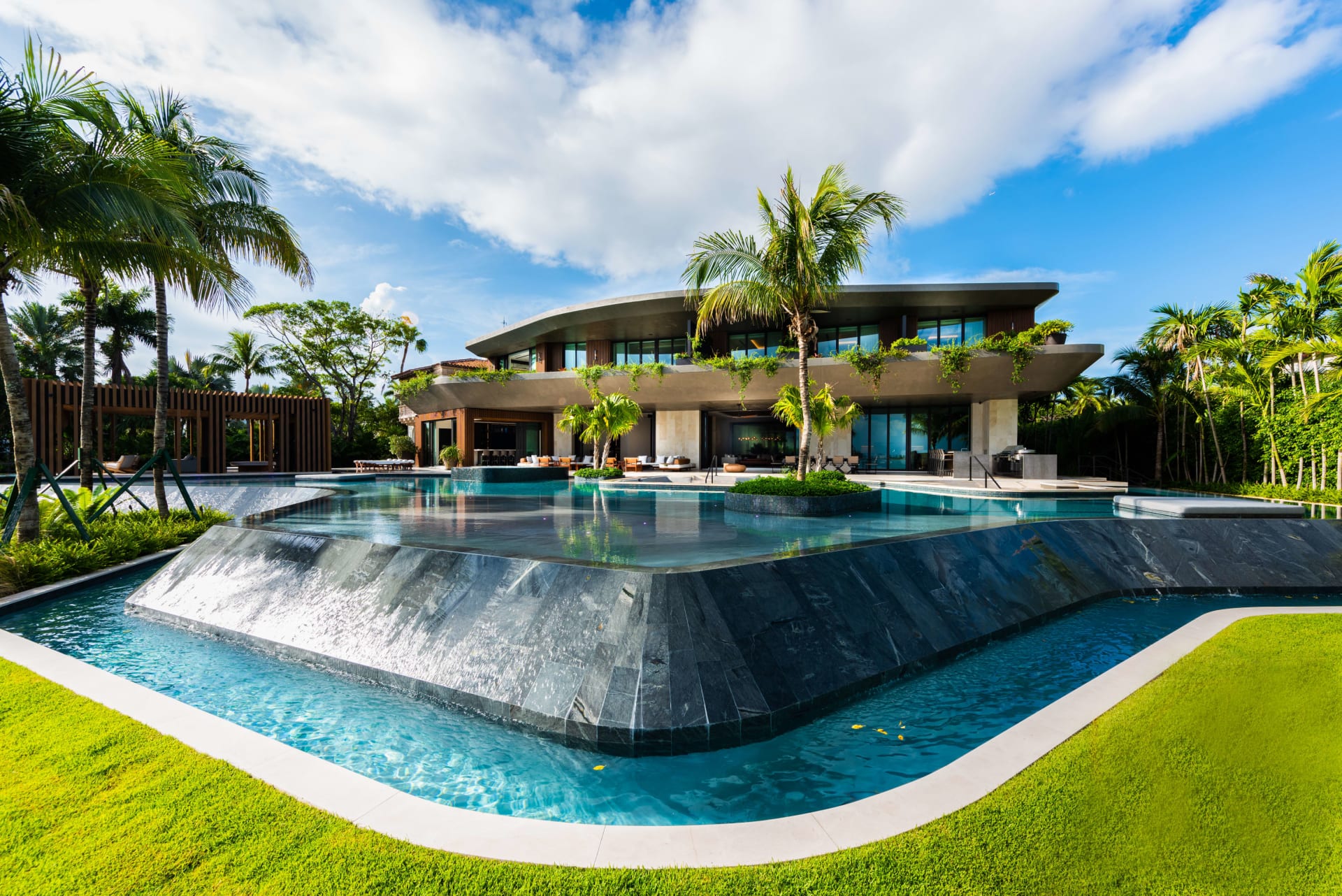 The Creation of Star Island
Developed by Carl Fisher (who is also credited as one of the founding fathers of Miami Beach as a whole) in 1919 and completed in 1922, Star Island originated as a yacht club with addressed lots ranging from 1 to 44, laid out in a clockwise path along the oval-shaped drive, which serves as the sole roadway for the island. In an article published by the Wall Street Journal, it is noted that Carl Fisher decided to build the island following the 1918 pandemic when he learned it was possible to do so through the dredging of sand, for which he enlisted the help of the Army Corps of Engineers.
The island's waterfront lots were first sold at $200 per square foot with a minimum size of an acre, and a rule that homes must be 100 feet from the edge of the water and 200 feet from the road. With such few lots, the available homes are further limited by the fact that several owners are the proprietors of more than one of the famous Star Island luxury homes.
Looking back, it was genius of Carl Fisher to design so few lots of such relative large size on Star Island, because the layout of each led them to be some of the most expensive offerings in all of Miami Beach, then and now.


Star Island is Home to One-of-a-Kind Early 20th-Century Architecture
Shortly after the island's creation, Star Island luxury homes began to be constructed under the direction of Miami architect Walter De Garmo, whose work encompassed Neoclassical, Mediterranean Revival, and Mission Revival styles. Although some residents have chosen to remove existing structures in order to build their dream Star Island spec homes from scratch, others have chosen to preserve the buildings designed by De Garmo.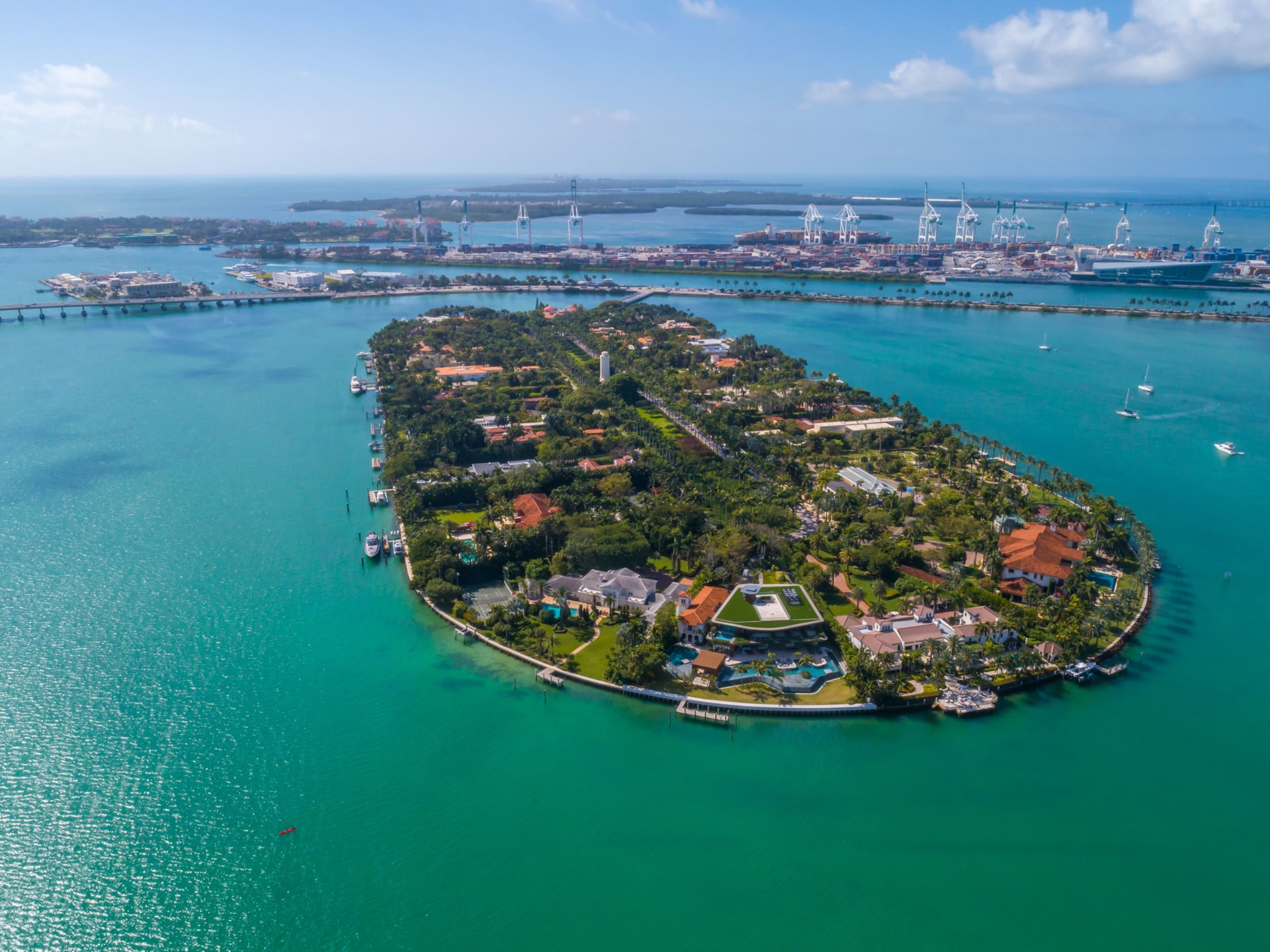 Star Island has Never Seen Freezing Temperatures
As of January 2021, Star Island has never experienced temperatures at or below freezing. On average, the island sees winter lows of around 60 degrees and summer highs around 90 degrees, which leaves the surrounding water at a temperate mid-70 to mid-80 degrees. This climate makes it particularly welcoming for Star Island luxury home residents and visitors to enjoy watersports year-round. And because every home on Star Island affords its resident direct waterfront access, you can launch your boat, jetski, kayak, or any aquatic vessel of your choice directly from your own backyard!
Star Island is of course part of Southern Florida, which is known for its tropical and aquatic climate, but the area is largely rain-free between October and May. However even during the summer months, most days are overall sunny, with showers happening during either the first half or second half of the day. Overall, residents of Star Island real estate rarely face fully rainy days.

Star Island's Historic Lots are Actively Preserved
With a history that dates back over 100 years, Star Island real estate has seen many property lot changes over the years. The original yacht club property was home to Hetty Green, who was once the wealthiest woman in the world. She acquired lot No. 46 on Star Island, and subsequently split the lot so that her son could have his own property near hers. Later down the line, the property was further split into three residences. Eventually, when investors attempted to repurpose the Star Island luxury home lots for high-rise apartments to house over 3,000 residents in 1968, the attempt was halted by the Miami Beach city commission.
The trend of preserving the remaining 1920s Star Island luxury home architecture by physically moving the structures to another area of a given lot seems to stem from the disagreement over the existing home on the lot purchased by Ms. and Dr. Hochstein in 2012. The demolition they desired was opposed by a preservation group led by Mr. Daniel Ciraldo, executive director of the Miami Design Preservation League. The preservation group was successful in convincing other homeowners and new purchasers to save the historic structures in some fashion, preserving these snapshots of American luxury design from the early 20th century. Anyone who drives through Star Island will see plenty of examples of Roaring 20s architecture, and you can practically feel the buzz and excitement of the island's fabulous residents throughout history.
Members of the Public May Visit Star Island
With its impressive architecture and array of stunning homes, Star Island is technically not a private island, and visitors may check in at the security guard house if they wish to drive through. Be advised, the guard records license plate numbers for security purposes to protect the privacy of the residents, but seeing the incredible architecture and experiencing the history of Star Island can be well worth it. Located within a short drive to South Beach and mainland Miami, the island is a popular sightseeing option for boats and larger yachts traveling to and from the nearby marinas.
When you're ready to browse Star Island real estate, enlist the help of a local real estate professional like those at Jeff Miller Group for expert guidance navigating this esteemed, unique slice of paradise.